Armin is the Team Lead at Node. He also eats pizza a minimum of 3 times a week.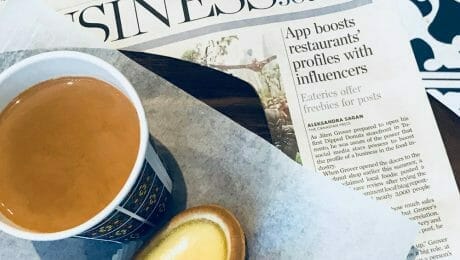 Since launching the Node App beta in August (2018), we've received a few notable media features that we're proud to share! Checkout the links below to read about Node in the media!
"Our Instagram just blew up," Grover said. "Influencers do have a big role, at least a significant impact, on a person's business."

Instagram stars can deem an eatery trendy and send their hefty following through its doors simply by posting a photo of a menu item….
Read the full article in the Toronto Star, Financial Post, National Post, or CTV 
Deepa Prashad, a Ryerson student and host on the Family Channel and blogTO, said that it's huge to have Instagram influencers promote local businesses because influencers have already established a solid following of people, and followers are able to share anything instantly with their friends.

"We live in a time where social media pretty much dominates everything," said Prashad. "On a regular basis people are scrolling through their feeds to find inspiration for everything from fitness to food."…
Read the full article in The Eyeopener
Interested in using Node for your restaurant bar or cafe? Schedule a demo with us today!
Since launching our beta several weeks ago, we've been receiving an overwhelming amount of demo requests from businesses. Thus we've decided to create a short explainer video that shows how restaurants, bars and cafes are able to create offers and attract influencers through the Node mobile app. Hopefully this video gives you a general idea of how Node works! We'll be releasing more videos with details on the various other functions of the app. You can also visit our FAQ page for more information.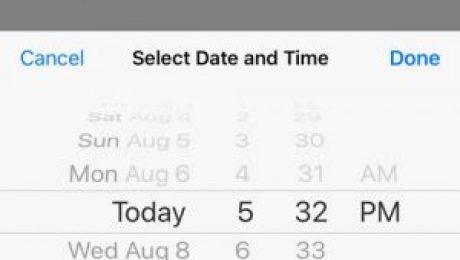 It's an exciting time for the Node community! Since publishing Node on the Apple store two weeks ago, we've collected an amazing breadth of feedback from content creators and brands. Our product team is working vigorously to improve the in-app experience, and it bring us great excitement to announce our first update since launching the pilot program. Below, you can learn more about the new features released in Node v1.1.1.

Node Restaurants
You can now indicate a time within the start/end date selection of the New Node screen.
A Visit Limit has been added which allows venues to place a cap on the number of influencers that can redeem a node. Once the cap is reached, the node will no longer be visible.
Content submitted by influencers can be approved from the Influencers tab. Posts that are approved will be displayed in the Content tab.
Node Influencers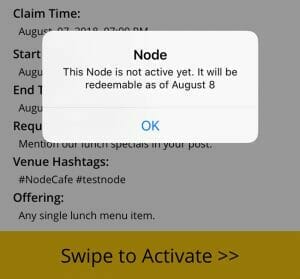 In order to redeem a node, influencers are now required to have their screen swiped at the venue. The activation screen can be found in My Nodes .
Influencers can claim nodes before they're active.
Nodes claimed-in advance are stored in My Nodes  but cannot be activated until the designated Start Date