It's day 30 of the California quarantine and still none of us are used to the desolate scenes that were our lively downtowns just one month ago. Everyone is suffering in some way or another, but America's fastest-growing sector— our service industry — was hit first, foremost, and hardest.
Restaurants around the world have either been reduced to takeout menus or shuttered completely. Our hearts go out to those who have spent a lifetime creating the atmospheric and gastronomic experiences where we go to spend time with friends and family.
Humans are a resilient species, always innovating and adapting. We all want to find a silver lining where we can. People in the restaurant industry tend to be particularly resistant to turmoil, whether it's a cause or an effect of the nature of the game – the long hours, chaos, and the inherent risk of their endeavors.
Watch our video to see how we have helped businesses throughout the COVID-19 pandemic.
Why Your Restaurant Should Use This Time to Build Relationships with Local Influencers
In the midst of all of the suffering and setbacks, those in the service industry with fortuitous timing and or economic circumstances have been able to use this unfortunate and unexpected free time to do various projects that would otherwise take a back seat to the daily grind that is stereotypical of the business. Here are some things that workers in hospitality have been doing to fill the gaps:
Remodeling, or just 'sprucing up' their spaces
Inspecting and rewriting their processes
Revamping menus
Doubling down on their delivery and takeout options
Marketing their brand
Building & Maintaining Customer Engagement
While marketing may seem like a strange thing to do when you're not even allowed to let people in your store, this is actually the perfect time. Marketing is about building relationships and connecting to your customers. Yes, the end goal is to sell, but while you're not really allowed to make sales, you can refocus on getting to know your customers better.
Marketing is largely digital these days, even for physical operations, and what better time is there to improve your brand awareness on the internet than when you're not allowed to leave your home? If you're not a photographer you can still create amazing content through influencer collaborations, and now is a better time than ever to do it. Here's why:
Restaurants, influencers, and customers all have extra time right now
Micro-influencers can provide strong local reach within the city or region that you serve.
Screen time is up, but influencers' rates are down
Restaurants are leveraging discounts in order to maintain a revenue stream (albeit at much lower profit margins)
You can use this time to form relationships that will continue through the opening of the economy.
Let me explain.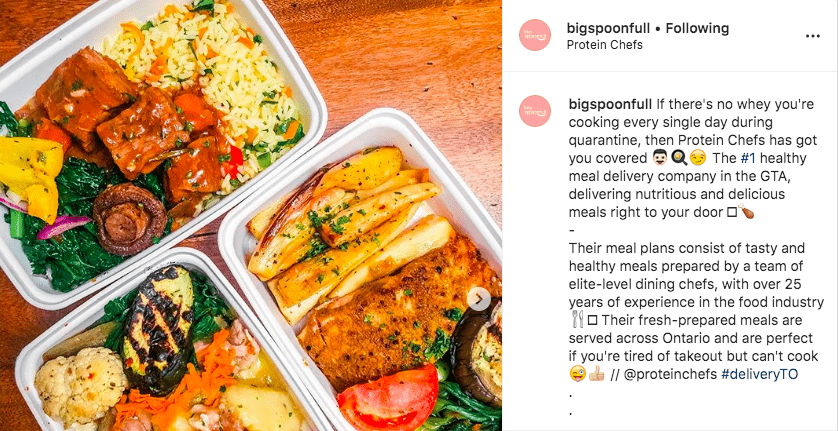 Restaurants, influencers, and customers all have extra time right now
In the absence of endless resources, marketing budgets are a balancing act between time and money – whichever you have more of, relative to the other, dictates your marketing plan. Right now, we have more time and less revenue than is usually the case. Many restaurant owners have time to reach out to content creators and engage with customers online that they've never had before. Content creators have more time to create content. And customers have more time to spend on social media, consuming that content (also known as scrolling through their Instagram feed).
Screen time is up, while influencers' rates are down
In the most isolated period of modern history we are turning to social media to connect with our quarantined brethren. For better or for worse, screen time is up, with Instagram engagement on sponsored content increasing as much as 40% and influencers reporting more engagement on their posts. At the same time, influencers' collaborations with brands have largely been scaled back.
While reasons for this are obvious – supply chain disruptions, social contact being required for many collaborations, marketing budgets being halted, and having limited studio space – one thing worth noting is that takeout food is easy to shoot solo and doesn't require studios or models. Influencers' rates have decreased, but their content is effectively more valuable because consumers are spending more time viewing it. If you have the means and the upper funnel objectives, you should take advantage of this market gap.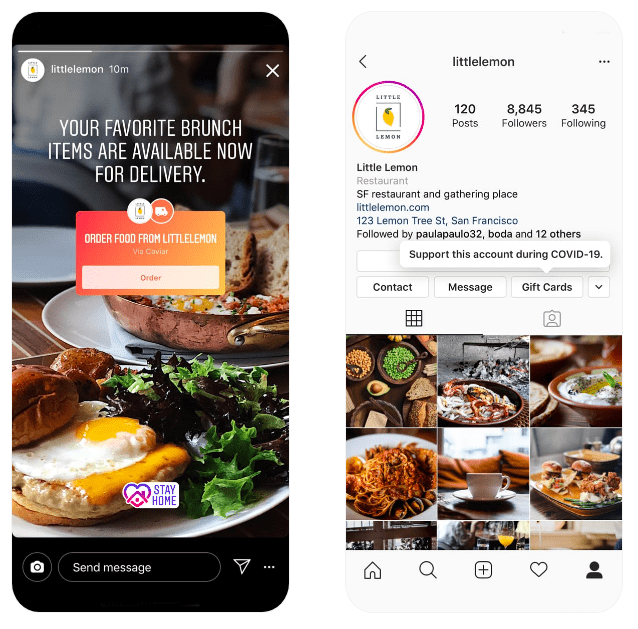 Pro-Tip for Restaurants
Instagram is making it even easier for customers to order takeout from you, with their new 'food delivery' sticker, rolled out on April 15th. click here for more info
Restaurants are leveraging discounts in order to maintain a revenue stream:
One of the extremely difficult choices that restaurant owners and managers are being forced to make right now is when to stop running operations – potentially at a loss – in order to keep their employees on staff. Steep discounts can keep customers coming in but at a cost that may be unsustainable to the business. If your restaurant is engaging in this balancing act, try directing some of these short-term losses to your long-term marketing budget by offering these discounts to influencers who will market for you in return.
Another Pro-Tip for Restaurants
In addition to browsing Instagram for influencers, you can use Node App to leverage your product for shoutouts and posts from local micro-influencers. Click here for more info

Node App's influencer marketing platform (free for restaurants through June 1st) uses only product as payment, so your existing discounts can be leveraged for free advertising.
You can use this time to form relationships that will continue through the opening of the economy:
If you think that influencer marketing is something that could benefit your restaurant, use this time to form relationships with content creators, local influencers and your customers – and gain valuable marketing content. Worst case you get free exposure. Best case, you gain new takeout customers and build relationships that will continue to when take-out returns to dine-in.