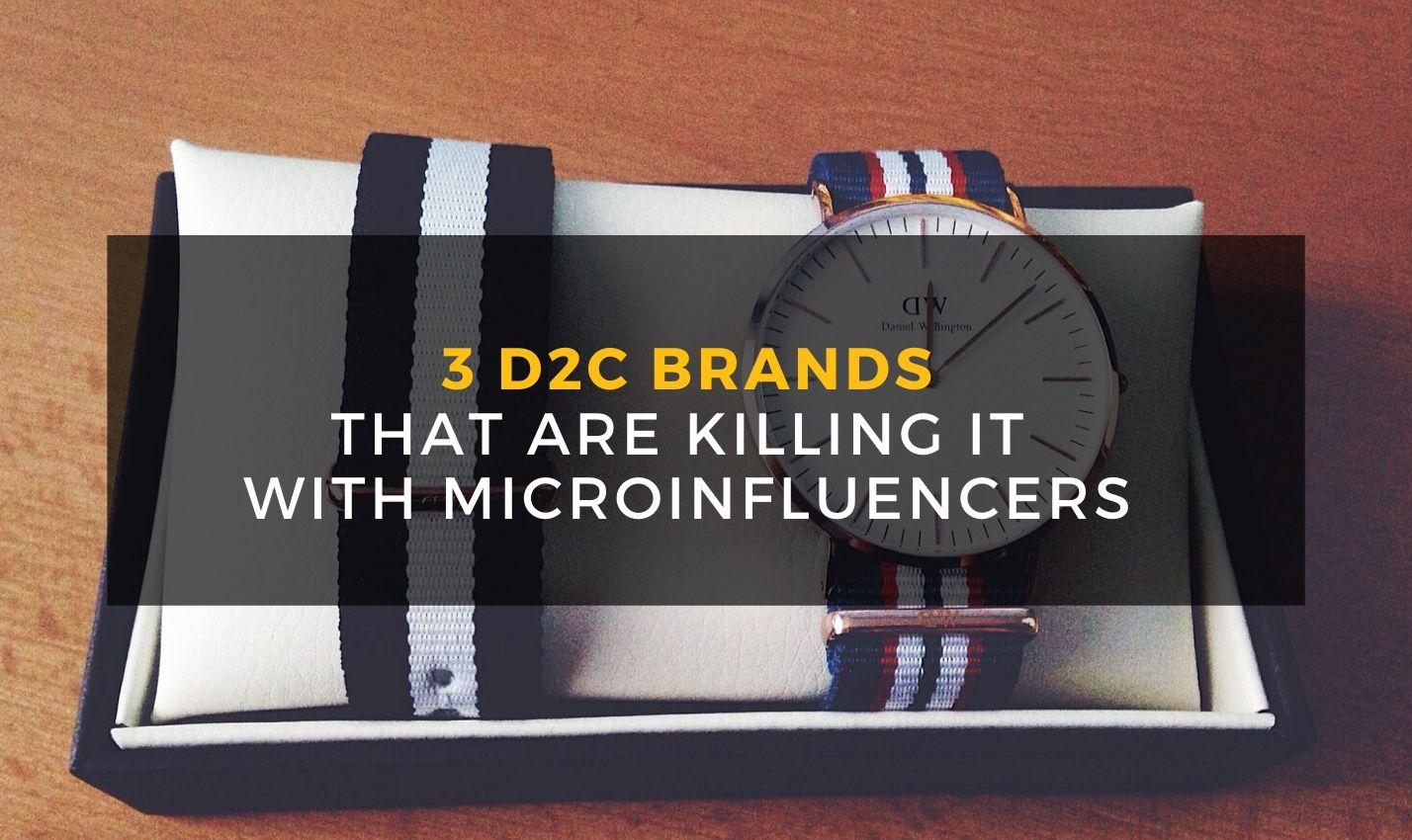 Influencer marketing has become one of the fastest-growing marketing mediums, and today roughly 95% of B2C marketers have reported working with influencers in some capacity. Furthermore, roughly one-third of marketers prefer working with micro-influencer as authenticity and higher engagement rates have become the priority.
Let's also consider that social distancing is creating a massive shift from physical shopping experiences to e-commerce. 
Then it is no surprise that DTC online businesses will continue to leverage micro-influencers to build connections and establish a reputation with online shoppers. There's already been a plethora of DTC brands that have scaled and built cult followings through micro influencers. In this blog we will explore 3 pioneers in this innovative marketing technique. 
We've compiled a list of 3 brands who are doing amazing with their micro influencer marketing strategies.
Interested in learning about how brands have worked with Node micro influencers? Read more here.
Mejuri's Stellar UGC Game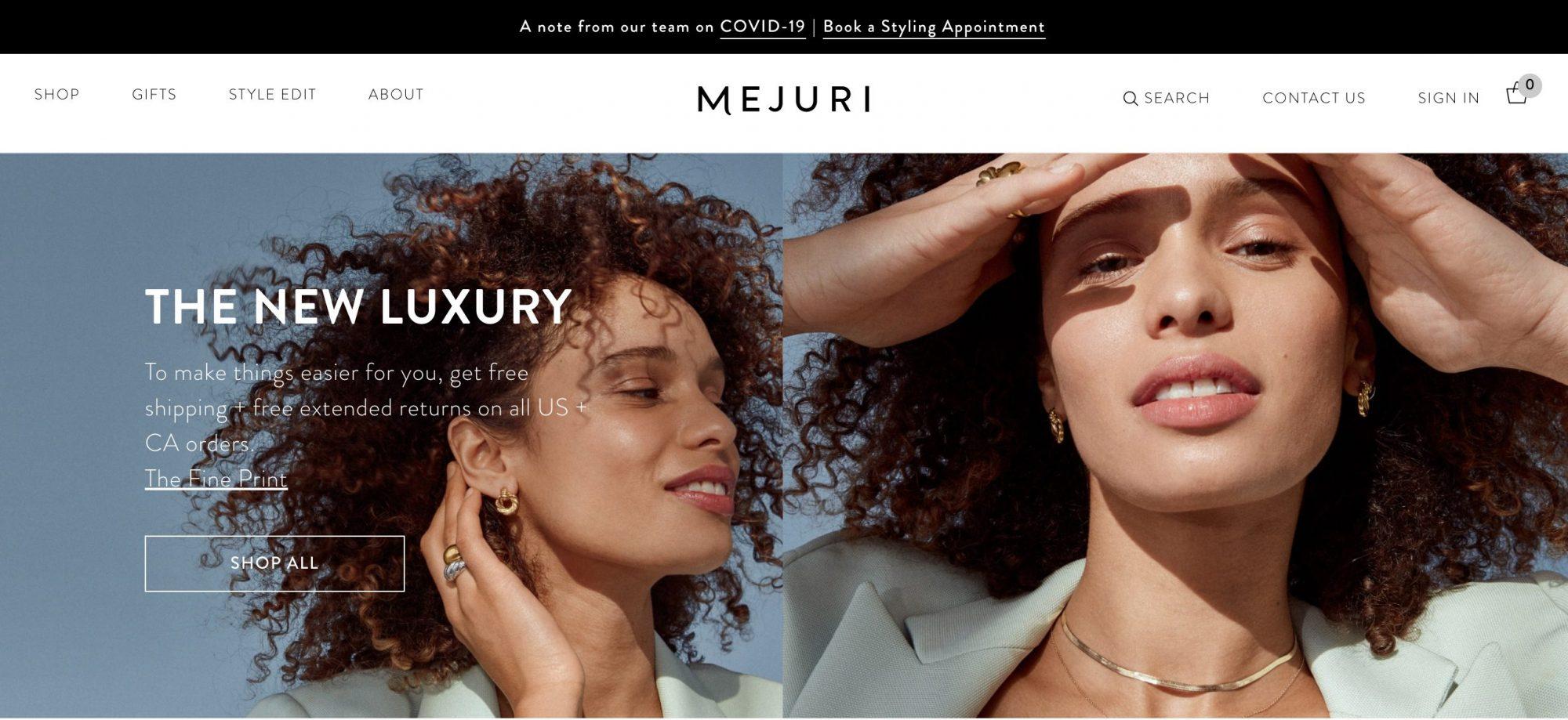 The early days of crowdsourcing:
User-generated content (UGC) was built into the Mejuri brand and marketing plan. Founded by 3rd generation Jordanian jeweler, Noura Sakkijha, the fine jewelry company was conceived using globally crowdsourced designs and the mantra to 'make luxury a habit.' 
This inclusivity defines the brand from the demand side. It appeals to the modern woman that doesn't buy into the traditional sentiment that jewelry is to be received passively (in the form of a gift, from a man). The Mejuri woman is independent. If she wants a pair of gold hoops she buys them—  "for her damn self."
Lessons learned from supply-side collaboration: 
While Mejuri has since moved to an in-house design model, lessons learned from the crowdsourcing days remain a fundamental aspect of the brand. Iterate often, and listen closely to customer feedback is part of the founding team's philosophy.
In another departure from tradition, Mejuri has adopted a trend well-known in fashion but uncommon in fine jewelry. Instead of seasonal product lines, they release collections that 'drop' every other week through their online store. This creates a feedback loop between customers and the brand, which allows Mejuri to accurately gauge what customers want.
Growing up with the influencers:
One underrated aspect of the success of brands that were founded over the last 5-8 years is timing. Mejuri's initial launch in 2013 and the corresponding 2015 re-launch coincided heavily with the rise of Instagram influencer marking. The Mejuri brand started working with what were low key micro influencers at the time, that has since grown to achieve celebrity status. This allowed the brand-influencer synergy to develop in an organic and natural way, which is key for success in the influencer marketing sphere. 
An inclusive product:
Mejuri has created a product that is price-inclusive and that everyone wants to post on social media. Their tone of voice is approachable, rather than one of authority. The company uses "real life" and experiential marketing tactics such as their immersive pop-up in New York City, known as 'The Vault."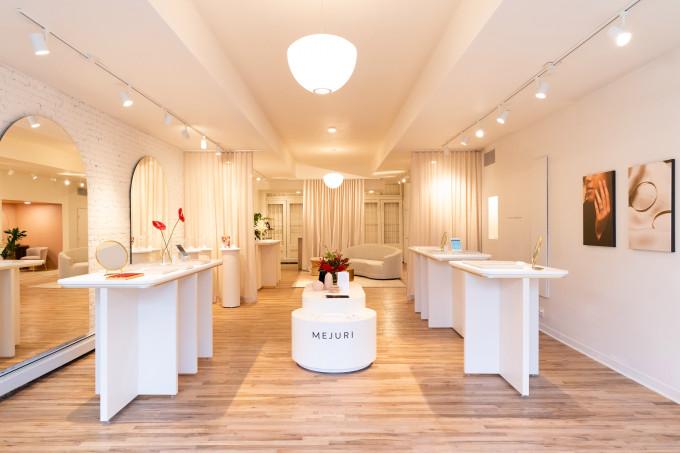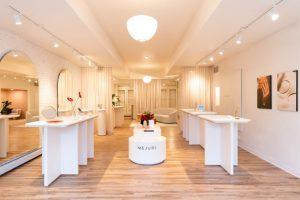 Mejuri understands online shopping and the company regularly activates its micro-influencer network to convey its message. For instance, for this year's Mother's Day sweepstakes, Mejuri encouraged people to nominate a deserving mother to receive a free product.
Efficacy of the crowdsourcing experiment:
Blurring the lines between customer and 'part of the team' is apparent on Mejuri's social media. The company's Instagram page has over 770k followers, and by the end of 2019 Mejuri was tagged in over 130k photos. This produces a great portfolio of user-generated content for their eCommerce store, but does it translate to conversions? With over 100,000 people on the waitlists for some Mejuri products, it appears they're doing something right.
Daniel Wellington's Fortuitous Budget Limitations
Founded by a Swedish watchmaker, named after an English backpacker: 
In stereotypical Swede fashion, John Filip Tysander entered the watch business after high school. 
The Daniel Wellington brand would come later – after Tysander graduated from university, and would be named after an Englishman that the millennial watchmaker would meet while backpacking in Australia. 
The real Daniel Wellington was actually wearing a Rolex watch with a NATO strap. The simplicity of the design captivated Tysander and inspired him to create what would become a timepiece empire. 
Inexpensive luxury:
The Daniel Wellington brand was created as an affordable watch brand with a minimalistic design that mimicked Ralph Lauren and the trending 'preppy' style. Although it may not seem, the actual product is made inexpensively in China. However, their nautical beach club design tells the story of a lifestyle based more in the alternative reality of life in squares. 
Budget restraints that encouraged experimentation: 
Tysander founded Daniel Wellington in 2011 with $15k. Both the timing and the budget limitations of the brand's debut as a company was fortuitous. As with Mejuri's launch, influencer marketing was not yet really 'a thing,' and was happening organically at the time. 
Had Tysander decided to raise venture capital and leverage Daniel Wellington's digital marketing efforts, the company may have used more traditional advertising and celebrity endorsements.
Instead, the company pioneered what we now know as micro-influencer marketing. It gave free product to independent content creators in their target market who, in turn, produced fun and creative photos of the watches and posted them on their social media.
Creative liberty:
The company encouraged content creation with influencer campaigns such as their "Pic of the Day" contests, which gave its content creators full creative control. This birthed a variety of styles that fit together to create what we know now as the Daniel Wellington style. 
This signature collaborative look remains an important feature of the brand today. With almost 5 million followers, 95% of the content posted on Daniel Wellington Instagram account is UGC. 
Outperforming Rolex in 3 years: 
Tysander's bootstrapped startup became the fastest-growing company in Europe in 2013 and held that title for 2 years. By 2014 they had sold 1 million watches, beating Rolex to this milestone by 108 years. The Daniel Wellington brand has become a blueprint for online retailers.
Reinventing the La Croix feeling:
From Wisconsin mom's pop substitute to the "obsessed" Millennial's Instagram feed:
You don't have to necessarily be a new brand in order to become an Insta-famous. La Croix was established in 1981, and was popular for decades among Midwestern moms leading the budget-wise middle America 'Anti-Perrier' movement.
It was the re-brand that coincided with Insta-fame, as well as Americans' movement away from sugary soda drinks (whose sales dipped to a 30-year low in 2015).  This helped La Croix take over as the 'all occasion beverage, 'and occasional cocktail mixer in the hands of the 5th largest beverage company in the United States.
Flavor as a feeling: 
Check out La Croix's Instagram feed and you will notice a mosaic of healthy and energetic faces. This is an effort to go beyond marketing La Croix's tangible as a soft drink. 67% of Americans in 2018 claimed to prioritize health or social consciousness when making food purchases and La Croix wants to fit in. 
It is a brands' job to connect the dots here – take that healthy feeling that consumers want to experience, translate it to a visual medium, and message that on social media. La Croix's parent company, National Beverage did this using the bold and colorful designs "least favored by management," but that resonated deeply with its audience. 
#Whole30Approved:
La Croix's induction as a Whole30 Partner in Health is like a stamp of approval on every single one of their Instagram posts. If you have any doubts about the soundness of La Croix's narrative connecting their product with the health-consciousness movement, the Whole30 community is here to ease your mind.
Whole30 also has virality built into the product that helped La Croix's reach, as it encourages its dieters to share meal plans, recipes and success stories on social media. To date #Whole30Approved has achieved over 467k hits on Instagram. 
Taking the time: 
Brands that outperform on social media make an effort to connect personally with their customers— not just sell goods and services. 
But La Croix is religious about staying connected with their audience. Former digital LaCroix strategist Alma Pantaloukas explained on LinkedIn that La Croix strived for 100 percent consumer involvement by acknowledging all comments about LaCroix and responding to our fans on a daily basis. 
This is not a small feat, as La Croix's has over 177k followers on Instagram alone.
Bottom-up approach to advertising: 
La Croix doesn't go out and seek celebrities or macro-influencers to promote their product. It has a much simpler, bottom-up approach that utilizes influencer seeding. 
They look through their social media at the people that have already posted user generated content, tagging the La Croix brand. They share this UGC from these customers, regardless of their follower count, often sending gratitude gifts such as a voucher for a free case of La Croix. 
Realization of the anti-Perrier movement:
The La Croix brand under its original owner was never able to overtake its European sparkling water nemesis, Perrier.  However, it appears that its millennial side has finally seen its best day.
While National Beverage does not release sales records for its individual brands, it is projected that La Croix holds 30% of the sparkling water market share— double that of Perrier. #LiveLaCroix 
How Micro-influencers fits into your brand's marketing strategy:  
Now that we've heard the success stories, let's look at how this idea can be replicated for your brand. The tactics we've discussed can be used whether you're a small business or a national electronic commerce brand.
Tap into your existing market:
In order to find the most loyal influencers to work with, consider pooling from existing customers. Any brand active on social knows that the solicitations from would-be influencers are never short of supply. 
The problem is that many of the solicitations come from content creators who don't understand your product and are simply searching for opportunities to make money.
There is nothing wrong with paying influencers, but you should look first to the people who know and love your brand. Reciprocate support and build on an existing relationship. 
Know when to give up creative control:
Part of having a brand is taking pride in the carefully crafted design of the product, the website, and the social media presence – the branding. But if you're going to go for it with micro-influencers it's important to know when to give up creative control in exchange for authenticity. 
If you are finding influencers correctly, they should be representative of your market. Your influencers are your customers, which means that they know what your customers want to see from the brand.  
If you're a direct-to-consumer brand get your market research directly from your consumer:
Whether it's direct from an internal representation or indirectly through your micro bloggers – put in the extra work to maintain an open dialog with your customers.
Ask what they want to see on the company's social media accounts or in the product. Answer their questions and thank them for their support.  After all, your brand only exists because of them
Get niche:
There are so many brands in the world, and they all exist on social media. The only way to stand out is to get a niche and encourage your influencers to do the same. Let them use your platform to express themselves – you'll both benefit from this. 
Be human:
The reason micro-influencer marketing works so well is that people trust other people. In fact, 84% of consumers say they trust peer recommendations over traditional advertising. Why invest in celebrity endorsements when you can tap into avid microinfluencers that your customers trust?
If you take this approach to branding make sure your in-house representatives stay human, as well. Don't overuse chatbots and templated answers when influencers and customers inquire about your products. 
Should I Hire a Micro-Influencer Marketing Agency?
You should be careful about working with PR agencies as they will essentially assume control of the relationship between your brand and the influencer community.  
For most agencies, their business model does not incentivize them to spend time garnering stronger relationships between their individual client brands and influencers. 
Bear in mind every brand faces challenges in measuring the gap between awareness and online sales. After all how do you truly quantify your customer relationships and word-of-mouth marketing?
Make sure to ask the agency exactly what goes into executing influencer campaigns and who will be responsible for communicating and shipping products to the influencers. 
Benefits of an Influencer Marketing Platform
Influencer marketing can be effective for most businesses. But, it's tricky to pull off. You need to find the right influencers, manage relationships, deal with influencer scheduling conflicts, and more. When you consider everything that goes into an influencer campaign, it's not surprising that you may want to turn to an influencer platform instead.
Just sorting through the numerous search results on social media can be a full-time job in itself. That's why it's great to have an influencer platform help you handle those tasks so you can focus on building quality relationships with influencers
Influencer platforms are great— when they work. The challenge is finding the right provider that lets you streamline your influencer marketing workflow and generate content at an affordable rate that you can scale.
If you're looking to launch an influencer campaign without spending a great deal of time or money, Node is a free service that connects you to valuable influencers who are willing to share content for products they like. The platform gives you the flexibility to choose your compensation, approve influencers and even launch campaigns across North America that influencers can respond directly to.