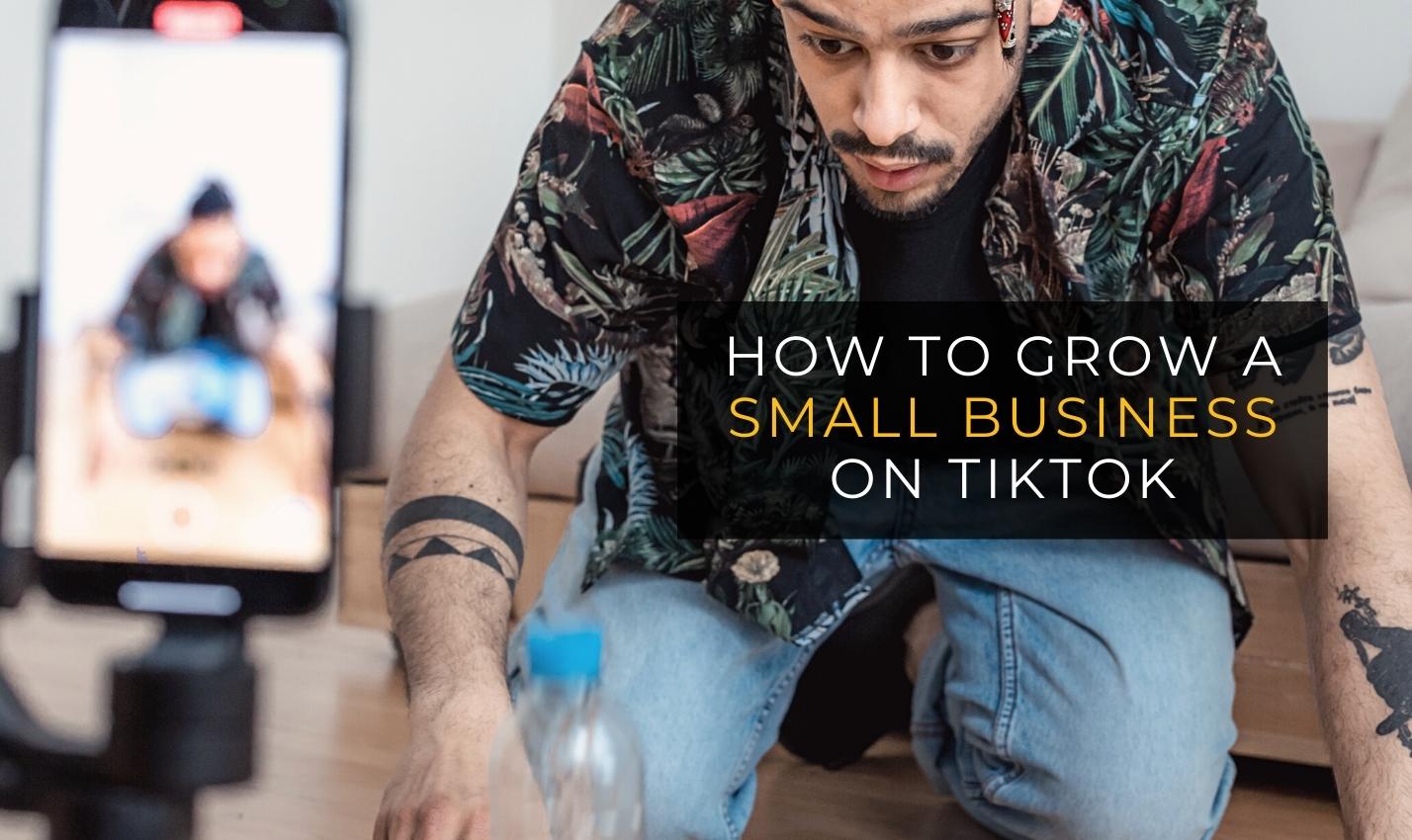 You've finally done it: you've created a TikTok account — congratulations! Now before we get into the tactics you can use to grow your small business's TikTok, let's talk a little about how the platform works.
With over 800 million active users globally, TikTok is the world's fastest-growing social media networking and entertainment site. There are endless types of TikTok accounts! Everyone from Katy Perry to the Red Cross is using TikTok. 
Showing off your camera abilities and practicing your immaculate dance moves is only part of what makes a successful TikTok strategy. You also need to understand the TikTok algorithm in order to get viewers to watch your videos and grow your account.
Deciphering TikTok
According to research conducted on TikTok's demographics, 41% of users are between 16 and 24.
If your intended audience is teens or young adults, now is the time to launch a TikTok account for your business. Because TikTok is still fresh and expanding, this is a once-in-a-lifetime chance to establish yourself in your field. 
Formerly, posts could only be 15 seconds in length; however, TikTok recently increased the limit to 60 and 3 minutes by stringing together four 15-second chunks. 
Music videos, lip-syncing, and trendy hashtag challenges are among TikTok's most successful video content.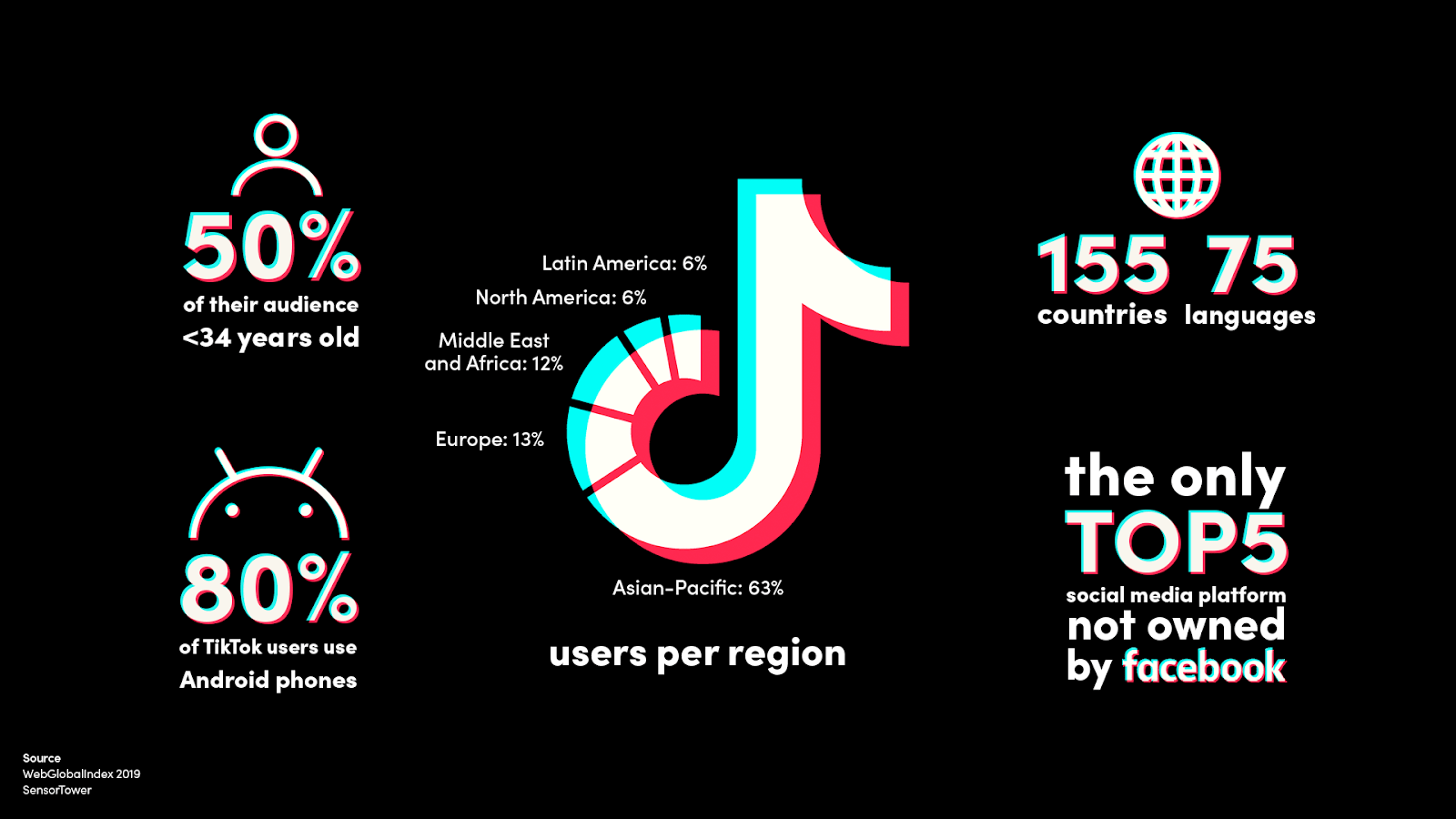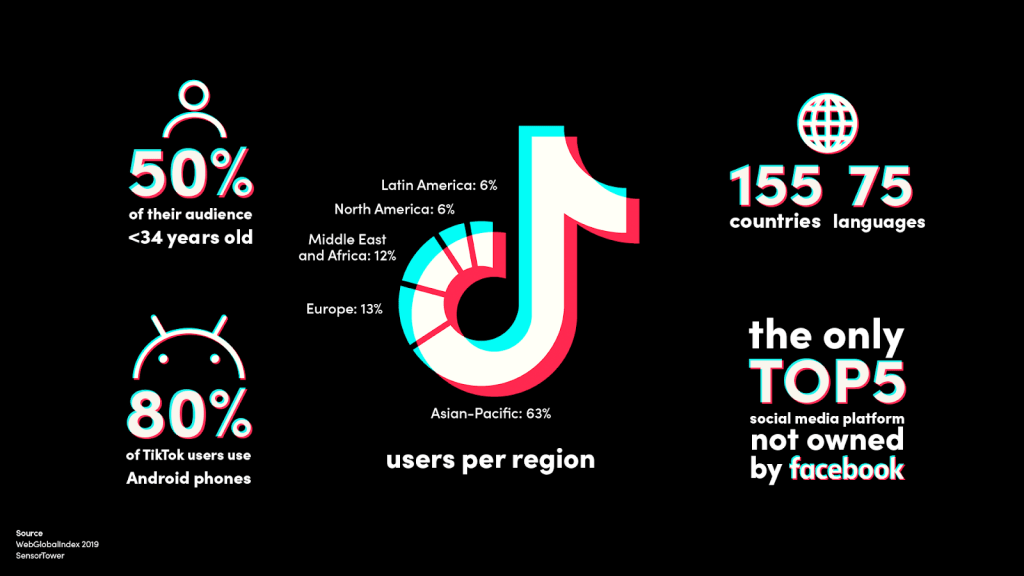 1. Publish Original and Interactive Content To Grow Your Small Business TikTok
If you would like to expand your small business on TikTok, you should upload consistent content that can be considered an asset to your customers. If your business targets kids and teens, choose videos with a young voice if possible. Instead of just re-uploading content from other sites, add subtitles to the clips to make them more authentic, adjusting them to the image if necessary.
Developing and executing TikTok video ideas can challenging! Sharing comedic or educational content are techniques to build your following. 
A marketing manager must keep up with current events and look for exciting things to broadcast. While TikTok clips are often impromptu and entertaining, your material should always be created with the intention to drive views and engagement.
If you're a beginner, we suggest browsing relevant hashtags and competitor accounts for TikTok video ideas. At Node, we aim to create a diverse range of content. This includes visual-based montage videos, as well as interactive lipsync videos. Frankly, we're still the TikTok experimentation phase and gathering data on what videos perform best for our audience.
Free video editing tools to help you elevate your TikTok videos
Kapwing – Free web-based video editing tool for Youtube, Instagram, and TikTok creators.
Adobe Express (Graphic Design)– Free graphic design software to produce eye-catching edits to incorporate into your TikTok. Premium features are optional.
Viamaker/CapCut– Free and all-in-one editing software. This application is popular use with TikToks. This app allows for amazing editing filters and features that add an extra layer of interaction to your videos. 
2. Collaborate with Creators
TikTok, similar to Instagram, is a visual platform that thrives on virality from content creators. 
Brands have been leveraging influencers on Instagram for years and now they're doing the same on TikTok. With its rapidly growing audience, TikTok influencers are using the platform to build massive followings and partner with brands in the process.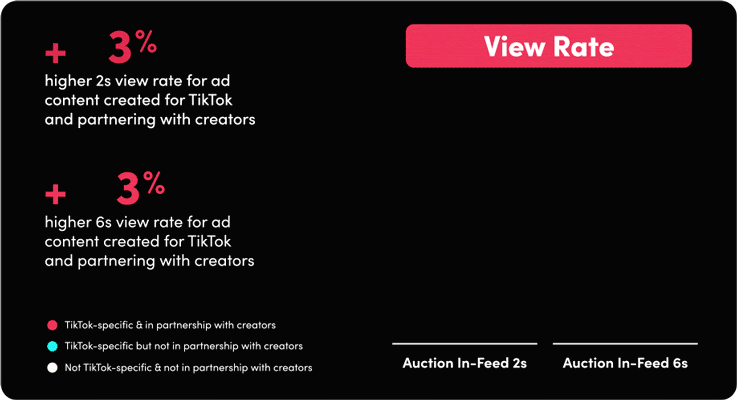 Today, Influencers aren't just driving sales for household names and luxury brands. Social media influencers are also helping small businesses and solopreneurs drive engagement and conversions.
Finding TikTok Influencers for Your Small Business
You can use Node to find TikTokers to promote your small business. Best of all it's totally free. All you need to do is post your requirements and influencers will apply to work with your brand.
TikTok

Creator Marketplace

also allows you to search and browse influencers on TikTok. However, it will require manual effort for you to contact and collaborate with creators.



3.

Create Content Regularly

If you are serious about expanding your small business on TikTok, you need to start by uploading content consistently.

There is an algorithm in place that favors more active accounts and this is why it is important for you to post daily, or at least every 2 days.

You'll need to post frequently and test different TikTok video ideas to get feedback on what type of content resonates best with your audience. 
4. Post at The Right Time To Grow TikTok For a Small Business
The time to post on TikTok is generally on weekdays at noon, evenings, and holidays.
The best time to broadcast is determined by your demographic. Influencer Marketing Hub looked at 10,000 TikTok posts and interaction rates from around the globe and discovered that the ideal times to publish can vary dramatically from day to day. 
One way to maximize your videos' impact is by posting TikToks at different times of the day. You'll start to notice when they are viewed, which demographics prefer a particular time, and what sort of content attracts their attention in those times.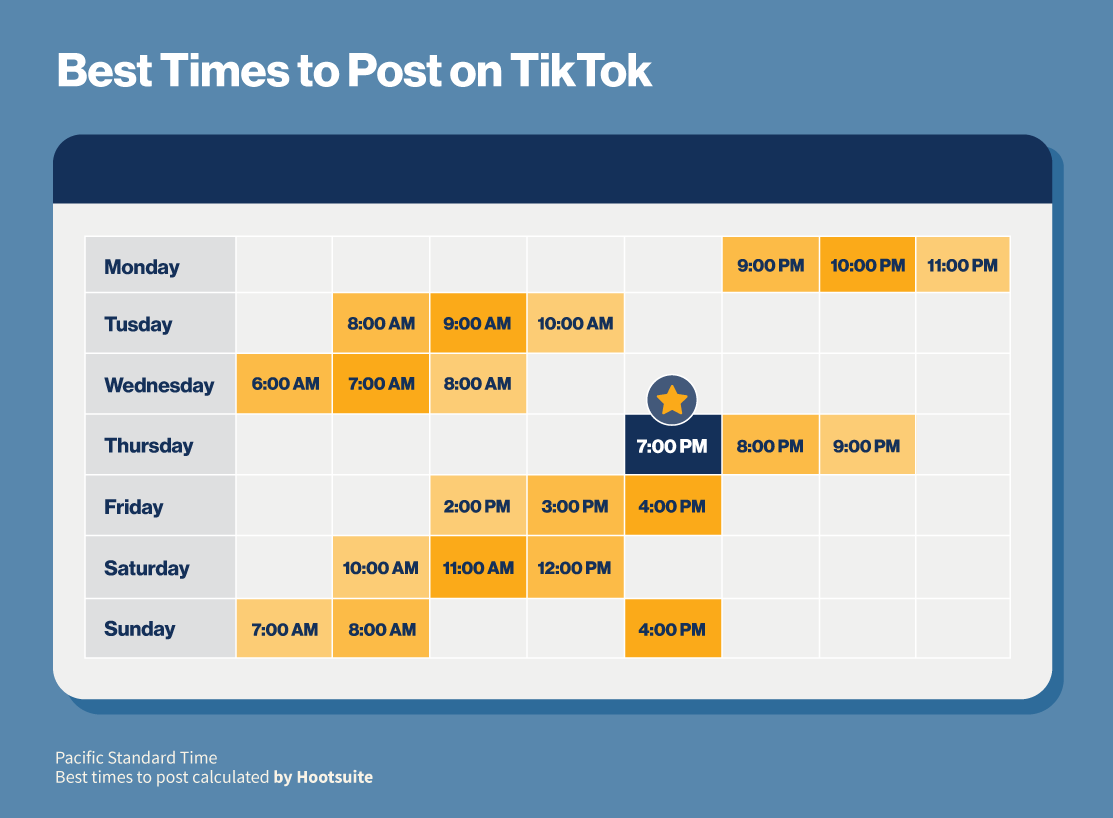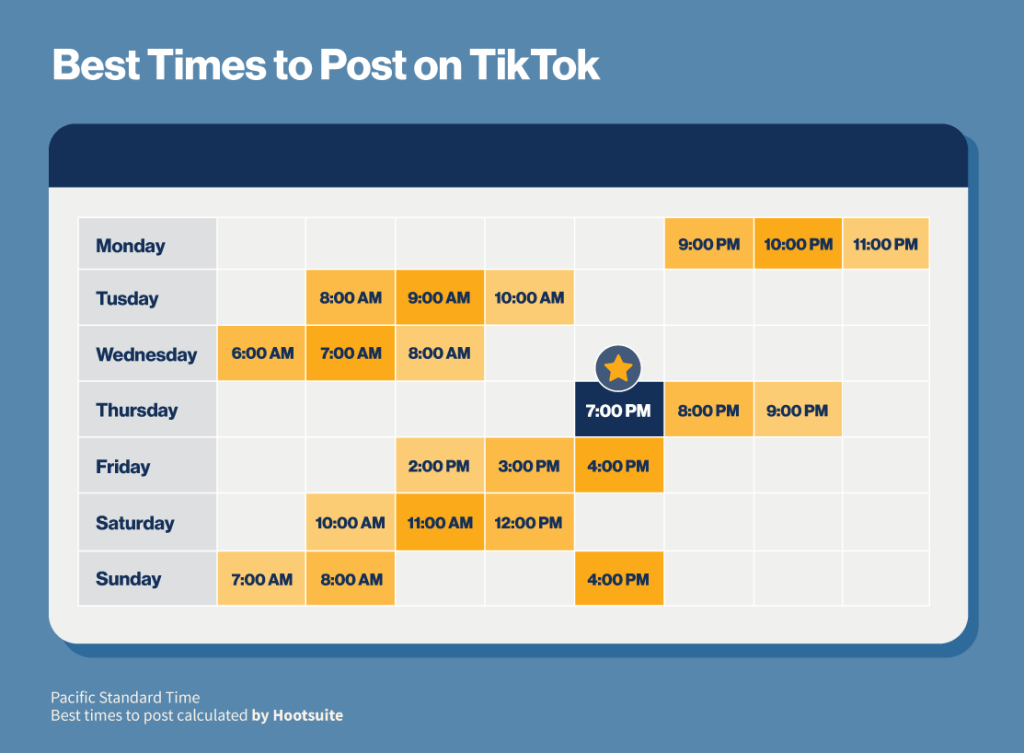 5. Use the Right Hashtags To Grow TikTok For a Small Business
Hashtags are an extremely effective tool in your TikTok arsenal. In fact, it's one way that TikTok's algorithm determines what you're publishing. Hashtags are also crucial for assisting users in finding your content via search.
One approach is to go niche with particular tags pertinent to your viewing public and subject matter.
Trending topics are much more likely to be placed on the TikTok #ForYou Page (FYP), which means that you should be keeping an eye on what is going viral and jumping into the discussion with relevant content.
Tap the "Discover" tab, then "Trends" at the top of the screen, to see which hashtags are rising in popularity.
While it is possible to gain followers by posting quality content, you are much more likely to find yourself on the "For You" page if you can predict what might be trending.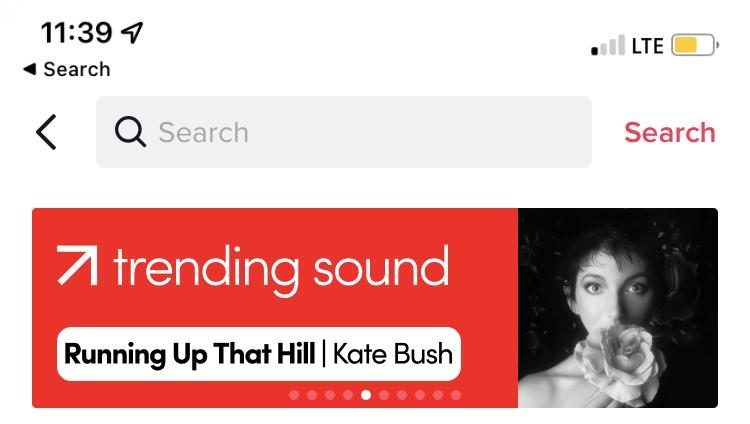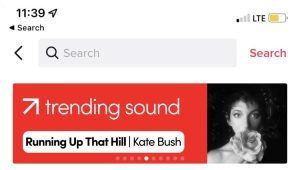 6. Experiment with Music
68 percent of TikTok customers recognize a brand more effectively when their music is in their content and 58 percent say they feel a more significant and influential relationship with the brand.
TikTok thrives on trending songs and sounds. Use it to your advantage by browsing trending songs on Spotify or Apple Music. You can also find trending sounds by browsing your hashtags and searching 'Hot' songs in the Sounds section when you're posting a new TikTok video.
"Music and sound are TikTok's universal language; they play an integral role in the community's creativity, liveliness, and cultural impact. From working with a culturally relevant musician to create a custom song, or tapping into trending voiceovers and jingles on-platform, music and sound play a major role in how brands share their personalities with the world." – TikTok website
One thing to note is that you can not just choose any music in your advertising campaigns. TikTok revised its commercial music usage policies, prohibiting brands from using popular songs instead directing them to its unrestricted Commercial Music Library of free clips. However, businesses still have access to a plethora of license-free trending sounds.
It is critical to use relevant and trendy music. As the sounds that you select will play into TikTok's algorithm, it also makes your content more engaging and makes it more likely that you'll appear on the TikTok For You Page, this phenomenon will increase your small businesses' visibility and attract new audiences to your page.
Final Thoughts 
Create original content instead of repurposing videos from other platforms

Increase your posting frequency as it'll help you test video ideas

You can use

Node

to f

ind and collaborate with TikTok influencers 

Use broad and niche hashtags

Incorporate relevant and trendy music.
💡 Read More About Small Businesses