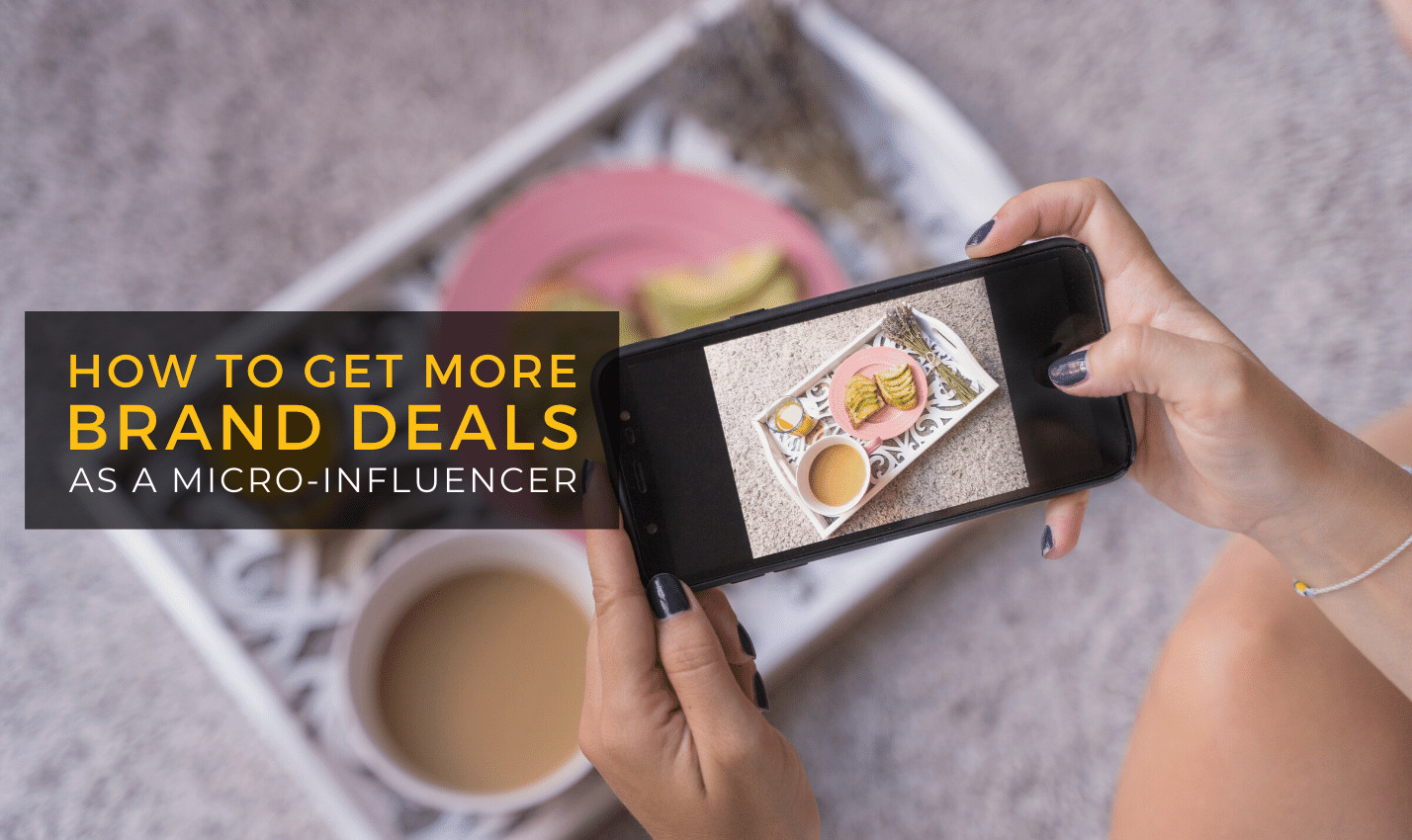 How do influencers get deals with brands?
If you're a micro-influencer or content creator who is looking to get more collaborations with brands, this is probably something you ask yourself regularly.
Convincing a brand that you are going to be the ideal influencer for their campaign is not an easy task. You have to demonstrate why you'll be the best choice and give them confidence that you'll be able to reach and engage with their audience.
Coming from a team that works alongside brands and influencers to execute marketing campaigns, we've seen first-hand what exactly businesses look for when choosing who they want for collaborations and paid sponsorships.
Just think about it this way – if a brand is going to pick you to market their products, they'll want to see that you know how to market yourself.
Here are some tips to help you build a strong brand as a micro-influencer:
Understand Your Metrics
Businesses can easily see how many followers you have and how many likes & comments you typically get on a post. What will set you apart from your competition is sharing more meaningful data that isn't so obvious.
You should have a solid comprehension of your audience demographics.
Whether you have over 100,000 followers or less than 2000, analytics can help you showcase that your following is real. There's no better way to provide social proof for brands that might be considering you as a brand influencer than to be able to show how much online influence and engagement you have.
This goes beyond just likes and followers. How old are your followers? Where do they live? What gender are they? Businesses want to know these stats before they collaborate with you.
If you run a major company or brand account on social media, you're pretty much obliged to rely on these numbers to justify how much you're paying influencers.
This guide shows you where you can access more data about your followers.
Have a Media Kit
If you were applying for a job, you'd curate a resume to demonstrate your experience, skills, and abilities. Now imagine you were a hiring manager and 10 people walked into your business letting you know they're interested in getting a job, but only one of them handed you a resume. Who would you hire?
You'd probably only consider the candidate who gave you a resume. You know they put the most effort into the application process, demonstrated professionalism, and gave you a background of their experience.
It is the same thing with brand partnerships and collaborations – you should have a media kit to share with potential partners.
Influencer marketing is hugely popular right now, but you can't just live on social networks and take pictures of your food for Instagram. You need to show that you can tackle an influencer brief, and you need to show the brands who hire you the analytics from your social profiles.
Many brands receive dozens of influencer inquiries on a daily basis, so a simple DM isn't going to cut it.
Even when brands reach out to you first, having a media kit demonstrates professionalism – they'll know you're the real deal. This will be reflected in the offer they give you.
Find your Niche
As an influencer, having a niche can be incredibly beneficial to your career. It allows you to stand out from the crowd and build a name for yourself in a specific area of interest.
These days, it's all about showing brands that you don't just influence a wide range of topics as most people do, but that you have an area where you can provide unique and interesting insights and knowledge.
When you begin to post content, be sure that your content has something to do with your niche. If you are a fashion blogger, focus on fashion when posting for the first few months to establish a following based on your niche topic.
When looking at accounts that are blogging about the same niche or subject as you, follow their followers. These people are interested in the same content and may be influenced by your work.
How do you stand out as a creator or influencer?
The answer lies in being as unique as possible. One easy way to stand out is by communicating your niche clearly through each piece of content you share, and more importantly, becoming the go-to account for a large number of people within your target audience.
To start building a subscriber base, you need to stand out. One way is by creating content that addresses your audience's specific needs and interests. Pull in search terms, get creative, and connect with other thought leaders in your community.
Not sure what to pick? Lucky for you, the options are endless – health and wellness, fitness, pets, cars, veganism, beauty, fashion, parenting, gaming etc.
If you need some inspiration for coming up with a niche, this video offers some great ideas!
Be Selective about Collaborations
Once you start achieving a high level of reach across social, you'll start being approached by brands wanting to work with you. When this happens, it can be a great position to be in because it often leads to well-paid collaboration opportunities.
It can be tempting to accept any potential collaboration that comes your way. However, choosing the right brand partnership is crucial or else all your hard work will be in vain.
Focus on partnerships that align with your niche.  Every post on your page takes up real estate, which represents a piece of your value as an influencer.
You want to collaborate with brands that match your personality and will add value to your audience. Collaborating with every brand that comes your way might not be the best business strategy if you want your audience to take you seriously or attract brands for paid collaborations.
Be professional and respectful when declining sponsored collaborations, and let them know you don't think you're the best fit for their brand. If you can, redirect them to another creator in your network who might be better – maybe next time they'll do the same for you!
Key Takeaways
Your followers are your biggest asset when it comes to your personal brand. Know everything you can about them – businesses will want access to this information.
Having a strong media kit isn't optional these days. Influencer marketing is growing, which is good news for you as long as you can compete with other social media creators. Curating a media kit is a great step in the right direction to show businesses that you're one to be taken seriously.
Find your niche and stick to it. Focussing on one category will make you an expert in your field and more appealing to brands looking for micro-influencers.
Check Out: Tips to Grow Your Instagram Engagement from an Influencer!