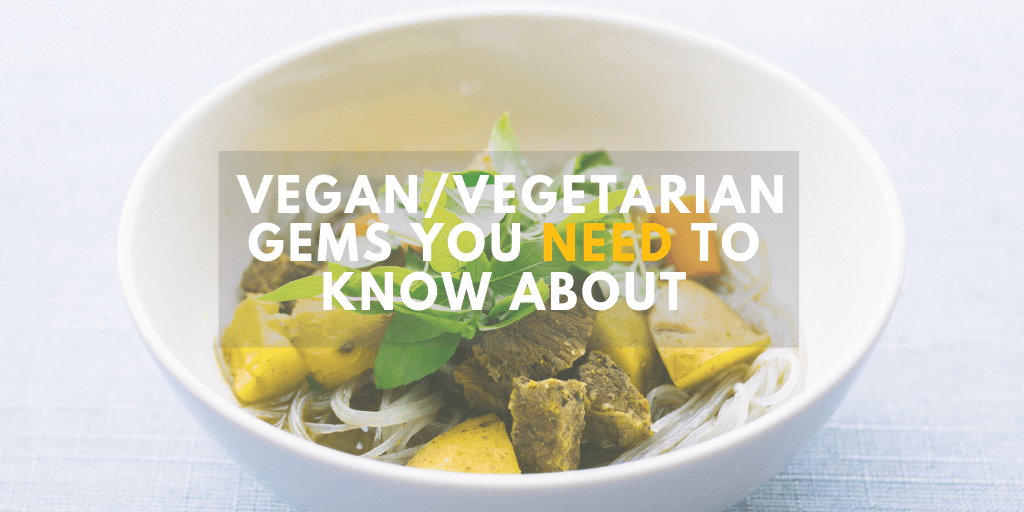 The vegetarian/vegan revolution has been in the works for a long time coming, and now is the time to jump onto the diet!
There are endless reasons to hop onto the lifestyle such as for ethical, health and environmental reasons, but if those aren't enough to step away from meat staples, be sure to check out these amazing veggie restaurants in Toronto– we're pretty sure they'll be enough to convert you. 
Please note that this is not a ranking of any sort– just a vegetarian foodie that loves to eat good food!
1. Parka Food Co.
Vegetarian/vegan doesn't automatically just mean stir-fry vegetables– and Parka Food Co. is a perfect example of it.
They serve up delicious vegan comfort food ranging from cauliflower burgers to their classic mac (& cheese– but not really cheese) dishes. Parka Food Co. approaches vegan eats with more than just food; but with a story and mission dedicated to keeping it real, fresh, local and sustainable for our environment.
Our personal recommendation:
The Truffle Mushroom Mac
(Don't expect your regular mac & cheese– this stuff will 100% exceed your expectations!)
2. Thrive Organic Cafe
This cafe & kitchen does it all; from raw superfoods to sprouted grain pizzas– and they even do catering!
Their menu gives you all the vegan-goodness freedom in the world to customize your wraps and salads the way you want it. Restaurant owner & chef, David Perez, ensures that their menu allows locals to thrive off of a natural and nutritious diet (with a hint of his own Mexican roots), while still tasting amazing!
Our personal recommendation:
The Amigo Wrap
(With the perfect ratio of vegan cashew cheese to tofu and greens– it'll be a wrap after this!)
3. Apiecalypse Now!
If you haven't seen photos of their classics like The Fat Mac pizza, you're seriously living under a rock.
Apiecalypse Now! is a staple in the vegan community now, with people resorting to their pizzas as a reward, a little pick-me-up, or the classic that we endorse the most: this is just downright bomb food that just happens to be vegan. Along with their food, their service and culture immediately makes you feel comfortable (and alleviates any guilt that goes along with ordering an entire pizza for yourself).
Our personal recommendation:
The Fat Mac Pizza
(There's a reason why it's their #1 bestseller– they even sell their mac sauce in jars!)
4. Away Kitchen & Cafe
With separate menus for lunch, dinner, and even Sunday brunch– this place merges classic dining with great vegan eats.
The light and airy environment serves as a perfect place to get work done during the daytime, and a perfect date night spot once nighttime rolls around. Regardless of the time of day you roll around to this gem, you'll be sure to have a hard time debating on classics like their margherita pizza or interesting twists such as their curry pot pie.
Read about how Away Kitchen & Cafe has worked with micro influencers to promote their restaurant!
Our personal recommendation:
The brunch poutine ft. the bomb-est cashew hollandaise sauce. Yep. I declared it and it is indeed official.
5. The Hogtown Vegan
With 2 locations just in Toronto, you know that a place called the Hogtown Vegan is going to (figuratively, but quite literally) rock your socks off.
With a variety of plant-based alternatives such as soy, seitan and tempeh (along with their classic unChicken and unPork items), you'll be sure to find something to hit that comfort food craving at this casual sit-down restaurant. Their take on southern dishes seems so effortless and fitting– it almost makes you wonder why there aren't any meat alternatives for these items at all restaurants.
Our personal recommendation:
The Southern Combo ft. their infamous unChicken waffles, mac & cheese, and collared greens. All three elements perfectly balance each other to form one of the most heavenly combos your mouth will experience. Trust me.
6. Revitasize
This juicing kitchen emphasizes the freshness and rawness of the fruits and vegetables that they proudly use.
The cleanses that they offer come with specific instructions on when & how to drink them; ensuring that you're following the proper procedure by professionals to detox your body. Along with their cold-pressed juices, they also offer variations of yummy vegan salads, soups, desserts and energy balls!
Our personal recommendation:
The Chia Seed Protein Balls (5-7 g of protein in each ball + a totally addictive snack? Yes please!) 
*Though we didn't have the opportunity to try a wide variety of juices, be sure to check out what's available during the season. They also offer tailored juice cleanses!
7. Veggie D'Light
A classic in the heart of Kensington Market, Veggie D'Light offers vegan Caribbean take-out and catering options.
Yeah, vegan Caribbean food. It's hard to find vegetarian Caribbean eats, much less vegan– so the fact that the head chef, Peter McKenzie, was able to curate a flavourful, nutritious and vegan menu speaks to the feat that they conquered. A short but effective menu with options to choose from between your proteins, carbs and veggies, this gem attracts the vegans, vegetarians and yes, even the meatatarians from all across the GTA.
Our personal recommendation:
Curried chickpeas + jerk seitan
(The flavours from the chickpeas won't disappoint, but do be warned– seitan may have an acquired texture if you've never tried it before. Nonetheless, the spices are definitely present and oh-so-good!)
8. Kupfert & Kim
A 100% plant-based restaurant, Kupfert & Kim is that place to go to when you need an energy charge from whole-foods.
They offer an array of fresh salad bowls such as their popular Oaxaca Bowl that includes brown rice, black beans and daikon, riddled with thoughtful veggies to complement it. Their all-day breakfast and treats menu also gives you the flexibility on sweet and savoury dishes without compromising on taste and flavour. Don't miss out on this gem. Seriously.
Our personal recommendation:
The Green Smoothie Bowl
(A hearty blend of green superfoods along with granola and seed toppings to leave you feeling energized for that 10-hour day ahead of you!)
9. Mugi
Serving up fresh takes on classics, this plant-based Thai restaurant is the perfect spot to grab quick eats.
Their spice levels can be catered to your preferences, and trust us, they can take it to another level. Curries, noodles and salad items galore– give this modern Thai joint a try to get a mouthful of spices and flavour.. you'll probably end up contemplating a trip to Thailand ASAP (like me)! 
Our personal recommendation:
The Hang Leh Jackfruit Curry
(This Northern Thai dish inspired by Burmese influences bring a classic Asian spice blend along with jackfruits that literally imitates beef. You won't be disappointed– I swear by it!)
10. Planta Burger
This vegan gem of a spot brings a minimalistic, cozy space that feels like the future of modern burger joints.
A variation of burgers are offered on the menu such as their Classic Burger, consisting of a mushroom & lentil patty with a mind-blowing potato and lentil queso. The menu is also balanced with a selection of greens and sides such as their poutine with a light, miso mushroom gravy. Whether it's to start, gear up, or end your day– Planta Burger brings fresh, comforting goodness to the table every single time.
Our personal recommendation:
The Southwest Burger topped with their classic queso, caramelized onions, and some crispy tortillas for that extra crunch. I swear this burger appears in my dreams sometimes.
11. Energy Shack
A juice bar featuring vegan soups, salads and wraps– Energy Shack's mission is to restore the human body's nutrients and eliminate toxins.
Their cold-press vegetable juice detoxes and plant-based meal programs are prepared and approved by a certified nutritionist and chef. Owner of Energy Shack, Carolyn, ensures that they go above & beyond with their personal services by offering free consultations for those struggling to maintain healthy lifestyles. With great vegan eats, fresh juices to cleanse your system, and staff who truly care for you– why wouldn't you stop by here?
Our personal recommendation:
The Nacho Chilli Haystacks
(Consisting of cashew nacho cheese, tofu sour cream and plant-based chilli– the blend of textures and elements leaves that Mexican craving satisfied!)
*Note: Only available Tuesdays & Thursdays
12. Cinnaholic
Last but not least, the emerging chain of vegan cinnamon rolls and desserts deserves a spot on our list.
It feels like animal products are almost a necessity in desserts, but Cinnaholic truly makes you think otherwise. Their dairy-free, egg-free and cholesterol-free products seem like they might just be too good to be true considering their variety of over 20 frosting flavors and toppings. To get a feel of your favourite combinations, consider stopping by to one of their stores at least twice– we promise you'll be back another 2 (thousand) more times.
Our personal recommendation:
Chai frosting + cookie dough + pecans
(This combo will have you kissing your fingers like a Frenchman after crafting a masterpiece!)
With the vegetarian and vegan movement expanding, the list could go on– but be sure to check out these spots whether it's for the perfect date night spot, late night eats or cheap lunches. As a proud vegetarian for 5 years, I'm more than happy to simply extend the introduction to this awesome lifestyle (and for all my current/curious veggie pals– this one's for you)!
Bonus recommendation: Vegandale Food & Drink Festival
Okay, this isn't necessarily a physical store but we couldn't write an article about veg spots and not include this event.
The Vegandale Fest runs on Saturday, August 10th/2019 from 11 AM – 7 PM in downtown Toronto (Historic Fort York & Garrison Common). With vendors coming from LA, NY, Vancouver and even locally renowned vegan spots making an appearance, this event will have any type of food you can imagine– and best of all, they'll all be vegan!
Early bird tickets and packs of 4 tickets for the price of 3 will be sold until August 1st— don't miss out on this mecca of vegan deliciousness, we know we won't!