It's an exciting time for the Node community! Since publishing Node on the Apple store two weeks ago, we've collected an amazing breadth of feedback from content creators and brands. Our product team is working vigorously to improve the in-app experience, and it bring us great excitement to announce our first update since launching the pilot program. Below, you can learn more about the new features released in Node v1.1.1.

Node Restaurants
You can now indicate a time within the start/end date selection of the New Node screen.
A Visit Limit has been added which allows venues to place a cap on the number of influencers that can redeem a node. Once the cap is reached, the node will no longer be visible.
Content submitted by influencers can be approved from the Influencers tab. Posts that are approved will be displayed in the Content tab.
Node Influencers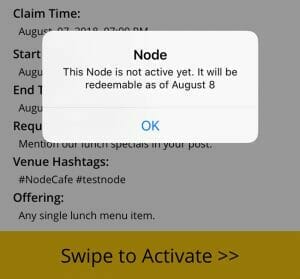 In order to redeem a node, influencers are now required to have their screen swiped at the venue. The activation screen can be found in My Nodes .
Influencers can claim nodes before they're active.
Nodes claimed-in advance are stored in My Nodes  but cannot be activated until the designated Start Date