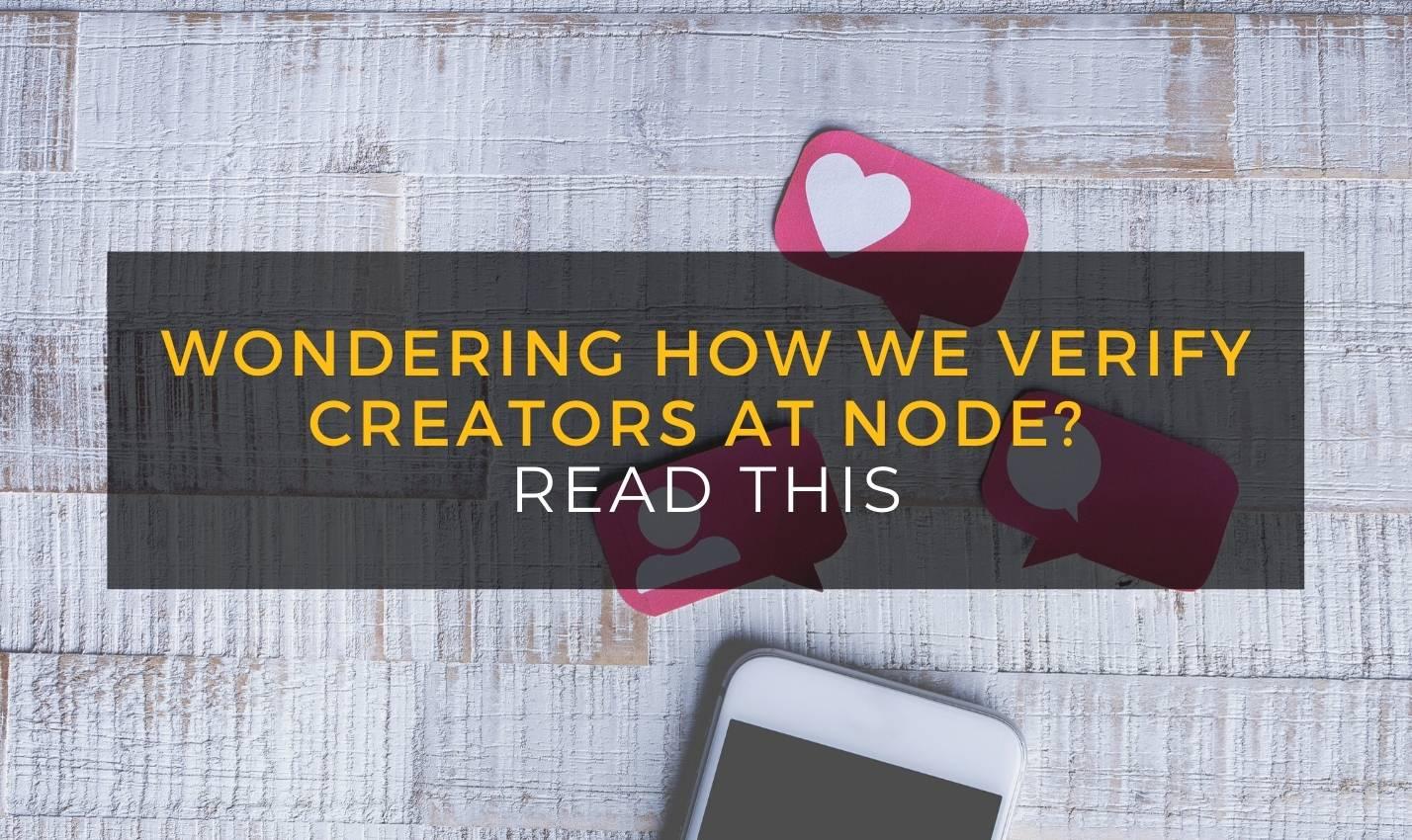 Did you know that over 85% of creators that sign up for Node aren't accepted onto the app?
As a growing marketing platform in an already competitive space, we are often faced with the challenge of inspiring creators to produce authentic content to reflect the value that they can all provide for our partnered brands.
There is a sense of responsibility that comes with being a creator on Node, as our entire community defines who we are and what we set out to be. Our goal is to continue inspiring creators to challenge themselves along with their ability to evolve their content and uplift the community.
Below, we've outlined the general requirements in what we look for from our creators to join our app. Of course, there's no one-size-fits-all approach, as we recognize that every creator has unique, intrinsic qualities that cannot be defined by numbers or a handful of criteria.
All of our creators are vetted individually by our team to ensure that a creators' authenticity and individuality isn't forgotten or missed.
Content Quality
Brands join Node because they're seeking visual content through the lens of creators that are excited to share, experience, and tell a story about their products.
Your product photos are not only an extension of yourself as a creator, but ultimately a reflection of Node and the value of our creators collectively.
While it isn't completely necessary to have professional photography equipment, creators should still ensure that their feeds are aesthetically pleasing and consist of high-quality content.
Content must be shot under adequate lighting with a focus on the product instead of being distracted by shadows, reflections or graininess.
A question that we pose ourselves when evaluating content quality (and we encourage you to as well) is whether or not we can envision brands reposting the creators' content on their own accounts.
In addition to overall content quality, captions are greatly taken into consideration as well. Are you actually providing in-depth insight to your experience with the product or do your captions simply include a 5/5 star rating? Anyone can sample products and give a recommendation, but an influencer must have influence and trust with their audiences through the power of their storytelling, thoughts, and opinions. After all, one of reasons micro influencers are so effective is because of their hyper-engaged audiences.
For creators that are verified on Node, we ask that their photo and video quality meets brand standards and the content requests indicated in their claimed nodes.
Engagement
We vet and verify every creator by their overall audience size and their relative engagement to ensure that we're working with real people who have influence in their respective niches.
Before approving creators, we take into consideration how often they post, their reach (not follower count), their history with their audiences, and the engagement that they've generated through their content.
We do recommend having at least 2000 followers before signing up to get verified. However, the follower to following ratio or follow back rate is largely irrelevant when evaluating content creators.
To our creators…
We want to thank you all for the overwhelming response that we've received over the past few months through an abundance of applications, inquiries and anecdotal stories of your positive experiences.
Our community of creators are relentless in doing what they're most passionate about: creating and inspiring others. So thank you— for allowing us to join you in all of your journeys to evolve and thrive within your crafts.
We strive to foster an environment that empowers both creators and brands (alongside their respective agencies) to do what they do best; and we will continue to do so.
We regret that we aren't able to verify every single creator, although we're optimistic that there is always an opportunity down the road. We encourage rejected creators to reapply to our platform every 2-3 months for reconsideration.
Our goal is to continue to create meaningful experiences and build avenues for you to grow as creators. ✌️
Check out this article featuring some of our top creators!